I write to engage with other people, to contribute my voice to issues in our society or to share an insight that might help a fellow human being. I write because no one has the same experiences or the same opinions as I do. I write because I have discovered a voice that is unique, a voice that simply must communicate.
I have discovered that just like I create a story as I tell it, now, I can create as I type. When an episode or opinion pops into my brain, I do not consciously choose to write about that topic or person. It is  moment, that surprises me. I wonder,
"Where did that thought or memory come from? I haven't thought about him for years!"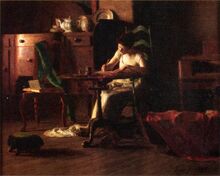 Thomas Pollock Anshutz (1851 – 1912)
Suddenly an entire story rises up from that one thought because I have assimilated emotions, reflections, connected quotes, philosophy and integrated it all with my faith. Initially my right brain takes over, creativity flows like a river of words. The entire process is largely subconscious. I unwittingly combine a spirit of creativity with a gift to craft words together. Writers in past centuries called it the muse. Left logical brain editing follows . However, if I attempt to write the first draft with my logical left brain, the article is stilted, boring and painful to read
I suppose I am not ready to write a  but I have tasted what it is like to connect  the powerful creative force that flows through all of us. Creativity is addictive. Nothing surpasses the thrill of sitting in front of a blank page or screen with an equally blank mind when a spark deep with me flares up and a story emerges in the middle of the flames. I simply start writing naturally, almost without effort. The words flow as fast as I can type. I do not think; I just type. As Ray Bradbury says,
My point is that when anyone begins writing, resist the temptation to imitate other writer's style. Find your own voice. Write from your heart and soul. Write what you are passionate about and your enthusiasm and joy will open the door to words which connect with your readers. In other words, you will begin the journey to become a great writer